About Empress Hot Tubs & Swim Spas


Dedicated to supplying innovative, energy efficient Hot Tubs at a superior price.
Calgary based dealer of PDC hot tubs and swim spas.
We pride ourselves on providing a CUSTOMER – FIRST environment that exceeds expectations in both QUALITY and in SERVICE. The result is incomparable Hot Tub/Swim Spa value. Contact us or visit us today to experience luxury at its finest.
Empress Hot Tubs & Swim Spas is a registered dealer of PDC SPAS. We stand behind PDC Spas's policy for giving full support of our nationwide network of hot tub dealers and contract service centers.  Our professional customer service representatives are only a toll-free phone number away to answer all your questions. If you ever have any questions regarding your PDC SPA or any of our products please feel free to call us at (403) 457-5774 or email your inquiries to info@empresshotubs.com
Your Year-Round Home Sanctuary for Fitness and Relaxation
Discover the many benefits of warm water massage comfort and full body fitness with any of our 36 designs of hot tubs and swim spas. Made from start to finish in USA, rest assured all PDC products will deliver a lifetime of reliable performance, relaxation and the wellness that you deserve.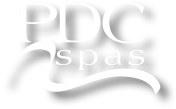 The decision to purchase a hot tub should be an easy one. However, selecting a manufacturer and hot tub expert you can trust, can be a frustrating process. After all, your hot tub or swim spa should be built with only the best quality materials and superior craftsmanship in order to last you and your family for years of relaxation and quality time.
Today, more than 175 companies manufacture hot tubs and exercise pools in the United States and Canada. Imagine sifting through all the information necessary to find the perfect hot tub for your lifestyle. It is a daunting task, and may even seem nearly impossible to thoroughly evaluate every single hot tub specification, much less evaluate multiple companies who incorporate unique terminology and trademarked names to compare similar features. That's where we come in!
Empress is here to conduct much of the initial field research necessary for homeowners to identify the major brands doing business and the benefits of each. We have teamed up with a wide array of manufacturers, both local and international, in order to be able to offer you the best in quality, efficiency and affordability.
Request a Quote / Contact Us