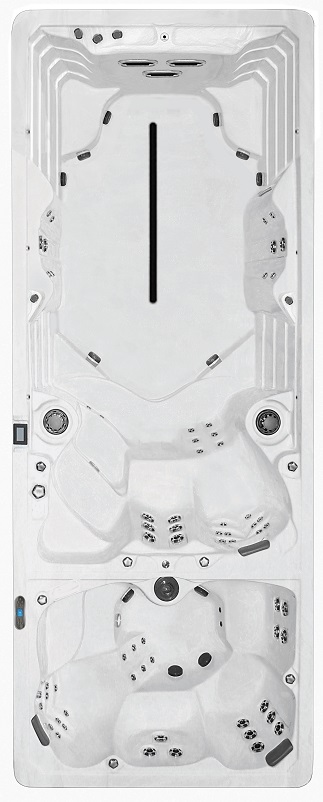 Best of Both Worlds
The Summit SX219 has something for everyone boasting a 5 seat hot tub plus a spacious swim spa in one. The ultimate in aquatic fitness and relaxation, the SX219 model features separate controls, heating and filtration systems so you can choose to enjoy both zones at once or separately, anytime, any season for a healthier lifestyle year round!
Model Specifications
Dimension
227" x 92" x 56", 100" fitness area
Design Features
Fitness zone features side entry steps with full body recliner and sculpted massage seat, open barrier-free fitness area, two RX6™ standing massage columns. Hot tub zone is a full featured 5 deep seat spa. Separate zones with filtration, heating, therapy and fitness action controls.
Therapy Jets
64 hydrotherapy stainless Reflections Jets™ . Full body massage columns. Shoulder, upper and lower back, hips, calves and feet in 7 seats.
Elite Pro™ Jets
Trio of high powered resistance swim jets
Dual Zone Power
Fitness Zone: 22HP, 3 pumps, 5.5KW heater, 50 amps
Hot Tub Zone: 8HP, 2 pumps, 5.5KW heater, 50 amps
Capacity
2525 Gallons, 9558 Liters
Weight (lbs.)
2550 Dry, 21950 Wet
Finish
Silver Marble acrylic shell, Smoke Gray or Willow Brown cabinet
Warranty
35 structure/15 finish/5 component/3 labor