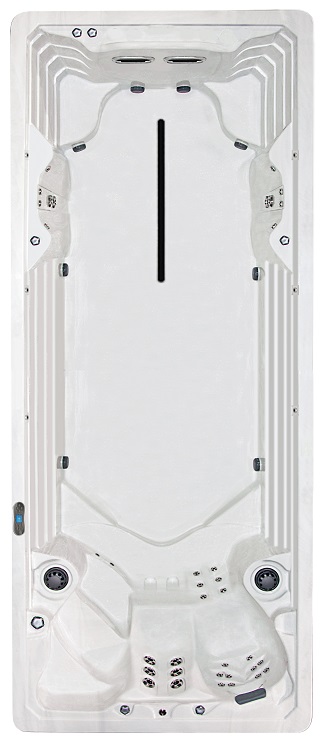 Renew, Relax and Repeat!
With the touch of a button, the Elite Pro™ jets quietly, and fully adjustable, offer a fitness stream for a rewarding water workout. With the included AquaCross™ tether trainer, swim, run, or jog. You choose the best routine for you and your goals. After your fitness session, relax those tired muscles with 36 hydrotherapy jets, soothing the entire bod
Model Specifications
Dimension
204" x 92" x 56", 136" fitness area
Design Features
Fitness zone features side entry steps with full body recliner and sculpted massage seat, open barrier-free fitness area, two RX6™ standing massage columns.
Therapy Jets
36 hydrotherapy stainless Reflections Jets™. Full body massage columns, reclining and sculpted seats with shoulder, upper and lower back, hips, calves and feet jetting.
Elite Pro™ Jets
Dual line up of high powered adjustable swim jets
Swim Spa Power
16HP, 3 pumps, 5.5KW heater, 50 amps
Capacity
2420 Gallons, 9160 Liters
Weight (lbs.)
1784 Dry, 21144 Wet
Finish
Silver Marble acrylic shell, Smoke Gray or Willow Brown cabinet
Warranty
35 structure/15 finish/5 component/3 labor