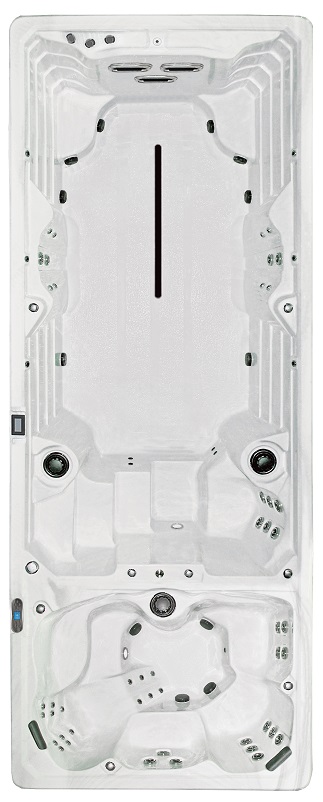 Have it All, with a Swim Spa and Hot Tub in One!
The SX219s dual zone features a full, 5 seat hot tub and a 14' spacious swim spa in one unit! Our easy entry steps and single seat option add an extra 18" of barrier free fitness area, an ample total of 118" for all your swimming, fitness, and family fun adventures. Equipped with separate filtration, heating and control functions, you can enjoy both sides together or each separately in any season you choose.
Model Specifications
Dimension
227" x 92" x 56", 118" fitness area
Design Features
Fitness zone features side entry steps with sculpted massage seat, open barrier-free fitness area, two RX6™ standing massage columns. Hot tub zone is a full featured 5 deep seat spa. Separate zones with filtration, heating, therapy and fitness action controls.
Therapy Jets
49 hydrotherapy stainless Reflections Jets™ . Full body massage columns. Shoulder, upper and lower back, and hips in 6 seats.
Elite Pro™ Jets
Trio of high powered resistance swim jets
Dual Zone Power
Fitness Zone: 22HP, 3 pumps, 5.5KW heater, 50 amps
Hot Tub Zone: 8HP, 2 pumps, 5.5KW heater, 50 amps
Capacity
2525 gallons, 9558 Liters
Weight (lbs.)
2550 Dry, 22750 Wet
Finish
Silver Marble Sun acrylic shell, Smoke Gray or Willow Brown cabinet
Warranty
35 structure/15 finish/5 component/3 labor